Equilibrist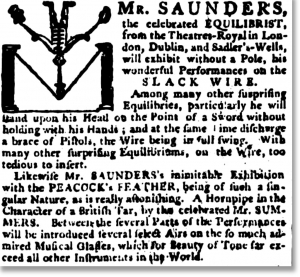 For a performer who received much praise and accolades for his daring and dazzling feats there are many periods of Samuel Saunders' life which remain elusive.
He was born about 1740 with the earliest recording of his act in 1759 in Oxford.  All that is known of his origins were that his father had a travelling fairground troupe and that his younger brother was Abraham.
Samuel spent much of his performing career in London, mainly at Covent Garden, Haymarket Theatre, and Sadler's Wells, as an equilibrist on the slack-wire.  In his early career he was making £4 a week, a handsome fee for that era.  His early shows were mostly balancing acts of a range of feats such as playing a guitar, ringing bells, and balancing eggs on straws all at once.  In time he expanded his repertoire with the wire 'in full swing'.
As well as being popular with the public, Samuel's shows also attracted royalty.  In May 1760 he performed before King George II and members of the Royal Family and English nobility.  In early 1761 he performed in Paris and when he returned he was applauded as The Celebrated Equilibrist.  By the mid-1760s his act had him standing on his head on the point of a sword that was positioned on the slack-wire, whilst he discharged pistol fire, and all the time the wire was in full swing.
In 1764 Samuel married Mary Wilson in Dublin.  They had at least one son who appeared with his father on the wire in the 1780s, but thereafter nothing is heard of him.  Mary died prior to Samuel's second marriage in 1781.
In his later years Samuel toured England, Ireland, Scotland and Wales with a complex act balancing on the slack-wire while playing musical instruments, completing somersaults, and letting off fireworks.  Samuel and Abraham joined Philip Astley's troupe for a regional tour of England, as Astley had expanded his entertainments to include slack wire acts.
In August 1781 Samuel married Julia Pinto, a concert and theatrical singer.  They had two children, the first died in infancy, but son George Frederick became a well-known violinist. Samuel continued to tour the British Isles and in the winter season of 1785-1786 he was with Astley's troupe before King Louis XVI and the French Royal Family in Paris.
The last records of Samuel were in early 1791 and it is likely he died shortly afterwards.  He had entertained thousands of fans for more than thirty years.  Although he lived through a time when entertainment was revolutionised with the advent of the modern circus, Samuel seems to have remained a solo performer taking short engagements.  Nevertheless, his was an important part of the Saunders family circus tradition.
(Advertisement from The Shrewsbury Chronicle 15 February 1777. Image © The British Library Board. All rights reserved. Image reproduced with kind permission of The British Newspaper Archive www.britishnewspaperarchive.co.uk)
Contact Caroline Cavanagh at samwellcircus@tpg.com.au to purchase a copy of Once a Famous Circus which provides much more detail on the Saunders and Samwell travelling circus families.
Text © Caroline Cavanagh 2017.