Circus Proprietor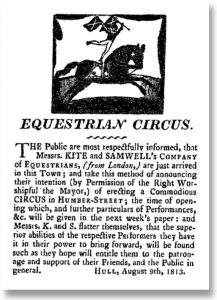 Born to Stephen and Rebecca Samwell, William would have performed in his father's travelling circus from a young age.  He later married Mary Ann Jones in 1813.  They had eleven children but only six survived to adulthood.
William inherited the proprietorship of Samwell's Circus on his father's death in 1816. He continued following his father's circus route of eastern counties as well as London fairs.
A description by Thomas Frost of the circus' visit in 1825 to Bartholomew Fair gives a graphic account of William as a 'fat, contented, easy proprietor' (from The Old Showmen and the Old London Fairs pages 270-272). He wore a 'tight and large satin jacket' as he announced descriptions of the performances. There was quite a variety on show – tight rope and slack-wire dances, learned horses dancing, balancing acts, acrobatics, clowns, and more horse acts.  All this for one penny.
We can follow some of the circus route by newspaper articles which show the name of the circus often changed from Samwell's Circus, to Samwell's Theatre, Samwell's Equestrian Troop, and Samwell's Theatre Royal. The rise in their success saw the admission fee escalate to 6 shillings! By 1833 the show included 'a real Indian' who did a war-dance and Chinese jugglers.  However, under William's leadership Samwell's show remained a small concern.
In 1834 William died at the age of 44. We do not know what caused his death but his passing did not deter his wife who took over proprietorship of the circus and brought it to even more triumphant success.
(Advertisement from Hull Packet and Original Weekly 10 August 1813. Image © The British Library Board. All rights reserved. Image reproduced with kind permission of The British Newspaper Archive www.britishnewspaperarchive.co.uk)
Contact Caroline Cavanagh at samwellcircus@tpg.com.au to purchase a copy of Once a Famous Circus which provides much more detail on the Saunders and Samwell travelling circus families.
Text © Caroline Cavanagh 2017.