Equestrian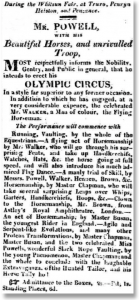 Very little is known about Henry Walker senior, who fathered a son of the same name who married Nancy Samwell.
It is known that Henry was of African descent.  His earliest billing was as The Youthful Indian with Abraham Saunders' equestrian company travelling throughout England in 1805.  He stayed with Saunders, and companies run by Abraham Saunders junior, until at least 1810.  In that year he was billed as Walker, the Flying African or Walker, the Youthful Indian in advertisements for Abraham junior's New Royal Riding School in Oxford.  Shortly afterwards he performed with James Kite's circus.
By 1813 Henry was with Powell's Olympic Circus in Edinburgh, billed as Mr Walker, the Celebrated Indian Youth.  He was still with Powell's four years later in Cornwall when he was described as The Celebrated Mr Walker, Man of Colour, the Flying Horseman.  It was around this time, in 1817, that his son Henry was born in Gloucester.
Nothing more is known of Henry.
(Advertisement from The Royal Cornwall Gazette 10 May 1817. Image © The British Library Board. All rights reserved. Image reproduced with kind permission of The British Newspaper Archive www.britishnewspaperarchive.co.uk.)
Contact Caroline Cavanagh at samwellcircus@tpg.com.au to purchase a copy of Once a Famous Circus which provides much more detail on the Saunders and Samwell travelling circus families.
Text © Caroline Cavanagh 2017.