Acrobat, Gymnast, Clown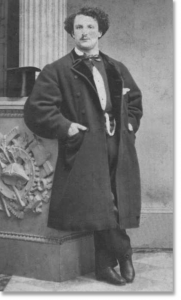 Stephen James Samwell was born in Cornwall to equestrians Stephen and Roseler.  He was the eldest of eight children, of whom only three survived to adulthood, and the only one to continue in the circus business (apart from brother Harry's short foray as a clown.)  He adopted the stage name of Leon Samwells for his adult career.
Leon probably performed as a child equestrian with his father who travelled with circuses on the English circuit in the 1840s and 1850s.  After his father died Leon left the family home to join an acrobatic group called The Mexican Wonders.  They toured Europe and played in London but it was not until they changed their act to The Marvels of Peru that attention from audiences grew.
By 1863 Leon was exhibiting as a solo act, as well as with the Marvels.  One of his specialities was on the still trapeze, escalating up to forty feet, followed by a spiral descent on a single rope.  In 1864 the Marvels joined the Lenton Troupe of acrobats on a world tour, eventually arriving in Australia.  Leon spent the next three years in Australia and New Zealand, mostly with the Lenton Troupe.  In South Australia Lenton's combined with Burton's National Circus (Henry Burton being a relative of the Lee family and thus, most probably, a relation of Leon's mother Roseler).
The Lenton Troupe left Australia in 1866 but Leon remained performing in circuses, and in Adelaide he married Julia Pickert.  Julia later changed her name to Amy Julian.  Their first child, Rosalie (known later as Rose Julian) was born in Melbourne.  Leon set up the Leon Samwells Troupe of Acrobats performing on the horizontal bar, trapeze, and slack rope in 1867 but his venture was not successful.  The following year he and his family moved to San Francisco where he performed as an acrobat and clown on tours of USA and Europe.  Leon performed with his uncle Thomas' circus, known as Professor Samwell's Great Combination Circus and Animal Show, in South America in 1873.
In San Francisco more children were born to Leon and Amy – Stephen Martin (later known as Martin Julian) in 1869 and Florence (later Theo Julian) in 1871.  Within a few years their careers began with their Parlor Acrobatics and they were often billed with their father.  However, as The Wonderful Julian Children's fame increased Leon's name slipped to the bottom of the bills.  The relationship with his wife deteriorated and in 1883 Leon was charged with assault for attempting to shoot Amy when she told him she was leaving him.  He was found guilty but had reconciled with Amy.  Nevertheless, he was sent to jail for three months.  Two years later he and Amy divorced and she headed east with the children to live in New York.  Leon headed west on a tour of Hawaii, New Zealand and Australia with Fryer's Circus.
About 1890 Leon moved to New Zealand and it would appear his health was poor as he was suffering from rheumatics and bronchitis.  He was admitted to the Costley Home for the poor and aged where he died on 10 March 1893, aged 49.
Leon's children Rose and Martin Julian achieved great fame towards the end of the century and many of their biographies make little mention of their father.  Having once been heralded as a world-renowned athlete and gymnast it would seen Leon's last years were of ill-health and destitution.  Hopefully this short review will once again proclaim the astonishing life and talent of this marvellous performer.
(Photograph of Leon Samwells from Allister Hardiman.)
Contact Caroline Cavanagh at samwellcircus@tpg.com.au to purchase a copy of Once a Famous Circus which provides much more detail on the Saunders and Samwell travelling circus families.
Text © Caroline Cavanagh 2017.