Violinist, Pianist, Composer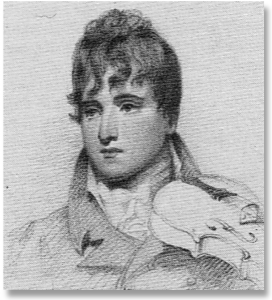 Born in Lambeth to Samuel Saunders and his wife Julia Pinto as George Frederick Pinto Saunders, George used his mother's maiden name as a surname in later life.
George inherited his grandfather Thomas Pinto's musical talents and, when he was still a child, Julia arranged for him to be instructed in the violin but his talent soon surpassed his tutor.  George made his public debut as a violinist in January 1793 when he was aged 7. He gained a new violin teacher in Johann Salomon, a German violinist and composer.  Over the next few years he continued to appear on London stages playing violin solos.  One performance was before the Prince (later George IV) and Princess of Wales in June 1795.  In 1797 Salomon took the boy on a tour of provincial theatres of England where he was applauded as a musical prodigy.
Around the turn of the century George took up the piano which became his preferred instrument.  George and Salomon toured Scotland and England, as well as Paris, with George performing violin and piano concerts.  From the age of 16 George began to write his own compositions.
Such a promising career was soon curtailed.  It is thought he caught a cold whilst on tour in Birmingham and it quickly lead to more serious illness and ultimately his death in 1806 in Chelsea when he was 20.  Johann Salomon said that had he lived, George was potentially 'a second Mozart'.
(Image: George Frederic [sic] Pinto by Albin Roberts Burt, after Robertson; stipple engraving, published 4 June 1806. NPG D5526. © National Portrait Gallery, London. Reproduced by licence, National Portrait Gallery.)
Contact Caroline Cavanagh at samwellcircus@tpg.com.au to purchase a copy of Once a Famous Circus which provides much more detail on the Saunders and Samwell travelling circus families.
Text © Caroline Cavanagh 2017.