Musician, Singer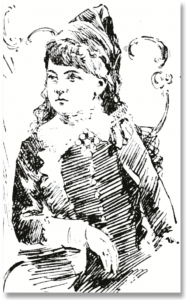 Florence Samwells was born in 1871 in San Francisco to Leon and Julia (later known as Amy Julian).  Like her older sister Rose and brother Martin, she adopted the stage surname of Julian as Theo, or sometimes Theoline.
In their childhood and teenage years Rose and Martin were a very successful acrobatic act.  After Leon and Amy divorced in 1885 the children moved to New York with their mother and it was here that Rose and Martin's careers blossomed. Theo became a musician mainly for private functions then she made her public debut in 1890.  Over the next few years she continued to perform in New York theatres and sometimes Rose and Martin, 'the contortion and acrobatic stars', were also on the bill.
In 1894 Rose married the boxer Bob Fitzsimmons and Martin married Bob's first wife Louisa.  Martin was Bob's manager.  The families remained close as Theo often attended fetes and galas in Bob's honour, sitting alongside Rose.  When Martin and Bob took to the road with a travelling boxing exhibition Theo was sometimes on the bill, performing musical numbers.
Around the end of the century Bob and Martin had a falling out and Bob took on a new manager, Clark Ball.  As well as being a boxing promoter, Clark managed vaudeville and burlesque clubs.  Despite the animosity between Bob and her brother, Theo and Clark married in 1901.
Over the next few years Theo toured with the Fitzsimmons travelling show.  She was often dubbed The Belle of Belles and added a comic element to her act, thereby gaining her the title of Musical Comedienne.  Her speciality was playing a wide variety of instruments, including a xylophone, banjo, and electric bells.  She received good reviews for all her performances and was frequently the opening act.
In the meantime, Clark Ball was still managing boxers and acting as booking agent for various entertainments.  But their marriage was not happy and they separated in 1909 and later divorced.  Theo went to live with Martin in Brooklyn.  Clark remarried and he died in 1923 after a short bout of pneumonia.
Theo gave up the stage sometime after 1906 and became an agent for a railroad company.  She continued living with Martin, and Louisa after his death in 1919. Theo died in Brooklyn in 1942.
(Drawing of Theo Julian from article in The San Francisco Call 25 November 1895.)
Contact Caroline Cavanagh at samwellcircus@tpg.com.au to purchase a copy of Once a Famous Circus which provides much more detail on the Saunders and Samwell travelling circus families.
Text © Caroline Cavanagh 2017