Equestrian, Tight Rope Dancer, Artist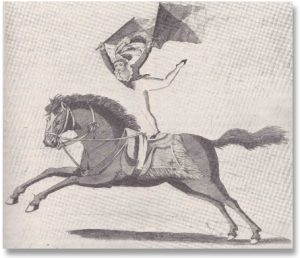 Born to Abraham and Elizabeth Saunders, Master, then Young Saunders began his career from an early age performing in his father's travelling circus.  Whilst still a child he performed at the Royal Circus for many years, later joined by his sister Sarah.  The pairing of the Saunders siblings was a sensation, receiving much praise from reviewers and they often attained top billing.  On four occasions in the early 1800s Abraham performed before King George III and other Royal Family members.
In 1807 Abraham outlaid much effort and finances to establish the New Royal Riding School in London.  But the venture was not successful and within two years he was back with his father's circus, performing before the Prince of Wales, who later became George IV.
Over the next few years Abraham made several attempts to set up his own amphitheatre in Oxford. The significant expenditure in hiring equestrians, rope dancers, and wire dancers, again failed to attract audiences and Young Saunders went back on the road in different circuses.  He still frequently performed with Sarah and their act now involved complicated tricks of pyramidical attitudes, dancing with children on their shoulders, and leaping over garters.
In July 1814 Abraham married Sophia Dukes at Westminster.  She was an artist but nothing is known of her origins.  Over the next few years three children were born to them – Sophia, Hebe and Eliza (who died in infancy.)
In the meantime Abraham continued performing in various circuses as well as that of his father's.  He also ran his own entertainment booths at London's annual Bartholomew Fair.  But there were difficult times and he was declared insolvent on several occasions.  For a short time around 1825 Abraham was the Riding Master, and performed on the tight rope, for Andrew Ducrow's Olympic and Gymnastic shows in Dublin.  These are the last records of Abraham as a circus performer.
In June 1829 he opened a Drawing Academy in Cheltenham, boasting a 'new style of painting' where Abraham claimed a child could learn to paint in six lessons.  The Academy was taken over by Sophia as their marriage disintegrated and they separated.  Eventually young Sophia and Hebe became teachers in the art and they toured England giving lectures and taking on pupils.  Their specialty was portrait miniatures and enamel painting.  Sophia opened Drawing Academies in London and Brighton which were very successful.
Hebe later married fellow artist Philip Augustus Barnard and they had flourishing careers as artists and photographers.  Young Sophia also taught painting.  She had two children who also followed in the profession.  Her great-grandson Max Saunders was a famous musician, composer and orchestral conductor.
Abraham's later years saw him in difficult circumstances and he died suddenly in 1856 of 'natural decay'.  Whether he was reunited or reconciled with his wife and children is unknown.
It seems a sad ending for someone who had provided so much entertainment and pleasure for thousands of patrons.  Understandably, the great circus master Abraham Saunders was proud of his remarkable and gifted son.
(Image Master Saunders, the Celebrated Equestrian, c1801. Engraving by Williams, after Roberts. Original in the Harvard Theatre Collection. TS 932.3 v.4, Houghton Library, Harvard University. Image reproduced in A Biographical Dictionary of Actors… by P Highfill et al 1987 pg 213.)
Contact Caroline Cavanagh at samwellcircus@tpg.com.au to purchase a copy of Once a Famous Circus which provides much more detail on the Saunders and Samwell travelling circus families.
Text © Caroline Cavanagh 2017.