Acrobat, Contortionist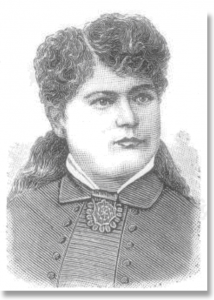 Rosalie Samwells adopted the stage name Rose Julian.  She was born in Australia.  Her father Leon Samwells was an English gymnast and acrobat touring Australia at the time when he married Rose's mother Julia Pickert (later known as Amy Julian).
The family moved to San Francisco in 1868 where Rose's siblings were born:  Stephen Martin (who took the stage name of Martin Julian) and Florence (later known as Theo Julian).  As was typical of circus families, the children were taught acrobatics from a young age.  Early in their careers Rose and Martin were billed as The Wonderful Julian Children.  Their act was described as parlour acrobatics and they received glowing reviews.  Their father was frequently on the same bill as a gymnast, acrobat, clown, or all three.
Within a few years Rose was billed as a solo contortionist, a 'marvel of grace and beauty', and her career blossomed.  Her parents divorced in 1885 and Amy took the children to live in New York.  The following year, Rose and Martin joined Barnum's Circus ('The Greatest Show on Earth') for a tour of the USA.
Rose and Martin made their New York debut in 1887 where, although they were billed as a partnership, it was Rose who received the most glowing reviews with Martin sometimes described as her assistant.  Over the next four years they continued to appear on New York stages with occasional tours of the USA.
During 1892 Rose and Martin performed with the Robert Fitzsimmons Comedy and Specialty Company, a travelling boxing and entertainments' exhibition.  Bob was, at that time, the world middleweight champion boxer.  Whilst still appearing in the acrobatic act with his sister, Martin became Bob's manager.  Personal relationships intervened and in 1894 Bob divorced his wife Louisa, who then married Martin.  At the same time, Bob married Rose.  This made for a complex web of in-law and business relationships.
Rose's marriage ended her acrobatic career and she devoted her life to supporting Bob's career.  They had three children and she made it no secret that she wanted Bob to give up boxing to spend more time with his family.  But she was remarkably supportive of him and many commentators credited her as a major contribution to his successes in the ring, egged on by her cry of "Hit him in the slats, Bob!"
After their marriage the boxing and wrestling tour exhibitions continued including a short trip to England in 1896.  Bob won the heavyweight title in 1897 and vowed to retire.  He continued touring exhibitions, including an autobiographical play about a blacksmith who became a pugilist and married a beautiful woman.  Martin had a fiery relationship with Bob and on several occasions he quit as manager, only to be reinstated some time later.  In 1899 Bob hired Clark Ball as his manager.  Two years later Clark married Theo Julian, further complicating the in-law and business relationships.
In early 1903 Rose fell ill with a cold that quickly developed into pneumonia and she died soon afterwards.  Her funeral attracted hundreds of people from the entertainment and sporting worlds, including many of Bob's former boxing opponents.
For many years after Rose's death reporters still commented on her remarkable tenacity and energy in supporting her husband.  Many said she was the first of her kind, as a woman, to show such determination in the boxing world.
(Drawing of Rose Fitzsimmons, nee Julian, from Inter Ocean newspaper (Chicago) 21 July 1886.)
Contact Caroline Cavanagh at samwellcircus@tpg.com.au to purchase a copy of Once a Famous Circus which provides much more detail on the Saunders and Samwell travelling circus families.
Text © Caroline Cavanagh 2017