Ringmaster, Scenic Artist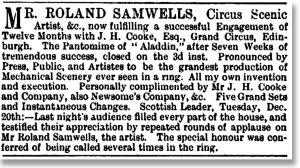 Roland Samwells was born in Essex to equestrians John and Charlotte.  He had seven siblings but only one, Amy, survived to adulthood.
As a child Roland developed a passion for drawing and painting but, typical of circus families, he was taught the art of equestrian trick acts.  His family travelled throughout England and Scotland as John performed with various circuses.  His first recorded appearance, using the name Rolley, was as a child equestrian in his cousins William and George Ginnett's Circus in 1869.  His sister Amy, also in the cast, was doing tight rope and slack wire tricks.
During the 1870s Roland accompanied Amy in engagements throughout England.  However, he wanted to concentrate on circus decor.  Later that decade he was engaged to George and Frederick Ginnett's Circuses as Decorative Artist responsible for stage scenery.  In time he became Property Master and Ringmaster.  In 1882 George Ginnett exhibited in Paris for the Fete National and Roland received great praise for his set designs.  Later, he began inventing clever mechanical apparatus that could transform stage scenery very quickly.
When Amy lost her children (one of whom was named after Roland) and husband within three years, she turned to Roland and they spent many years working together and travelling through England, Scotland and Ireland.  In 1886 when Roland and Amy were engaged with Charles Hengler's Circus, Queen Victoria asked for a private performance at Windsor Castle.  Roland was ringmaster and Amy performed on the slack wire.  It was the Queen's first attendance at any amusements since the death of her husband 25 years previously.  The horses were paraded for the Queen after the performance and it was reported that she was very pleased with the show.  Other reports hoped this would end the Queen's abstention from live performance and it seems she did begin to attend amusements, perhaps the most important being her jubilee the following year.
In 1889 Roland married Mary Ann Frances Bowen in Edinburgh.  Mary Ann (sometimes recorded as Marion) was an equestrienne and tight rope artiste known as Miss Elvira who came from a performing family and had been in the circus ring for years.  Roland and Mary Ann had nine children but only four survived to adulthood and none of them went into the circus business.
During the 1890s Roland and Miss Elvira toured Britain with various circuses.  When Amy injured her knee whilst performing, she took up costume design and for some years frequently advertised her services in partnership with Roland.
The last performances of Roland and Miss Elvira were in 1902.  They settled in Stockport, Cheshire.  Within a few years Roland fell ill and died in 1908, aged 48.  His wife lived another twelve years.
Roland Samwells certainly packed a lot into his short life.  Not content to merely follow the footsteps of his equestrian ancestors, he forged new and creative ventures in set design which perhaps influenced his peers and future ideas in circus performance.  Despite a life tinged with his own tragedies, he served magnificently in entertaining millions of people and played a key role in enlightening the British Queen to the joys of the circus.
(Newspaper image from The Era 11 February 1888. Image © The British Library Board. All rights reserved. Image reproduced with kind permission of The British Newspaper Archive www.britishnewspaperarchive.co.uk)
Contact Caroline Cavanagh at samwellcircus@tpg.com.au to purchase a copy of Once a Famous Circus which provides much more detail on the Saunders and Samwell travelling circus families.
Text © Caroline Cavanagh 2017.