Acrobat, Boxing Promoter, Theatre Manager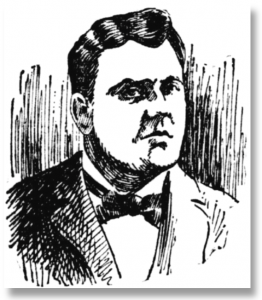 Stephen Martin Samwells, who later took the stage name of Martin Julian, was born in San Francisco to Leon and Julia (later called Amy Julian) Samwells.  Leon was an English gymnast and acrobat who moved to San Francisco the year before with his wife and daughter Rosalie (later known as Rose Julian).
Leon and Amy's children were taught acrobatics from a young age.  Whilst later biographies state they learnt from mother Amy it is more likely that Leon was their teacher given his family background and proficiency.  Rose and Martin were billed as The Wonderful Julian Children with an act described as parlour acrobatics or parlour calisthenics.  Leon was frequently on the same bill as a gymnast, acrobat, or clown.  As their careers progressed Rose began to be billed as a solo artist but Martin still performed with her, often as her assistant.
In 1885 Martin's parents divorced and Amy took the children to live in New York.  The next year Martin and Rose joined Barnum's Circus ('The Greatest Show on Earth') for a tour of the USA.  They made their New York debut in 1887 where, although billed as a partnership, it was Rose who received the glowing reviews.  Over the next four years they continued to appear on New York stages with occasional tours of the USA.
During 1892 Rose and Martin performed with the Robert Fitzsimmons Comedy and Speciality Company, a travelling boxing and entertainments' exhibition.  Fitzsimmons was the world middleweight champion boxer.  Martin became Bob's manager, arranging boxing matches and exhibition tours.  In 1894 Bob divorced his wife Louisa and she then married Martin.  Very soon afterwards, Rose married Bob.  It made a complex web of in-law and business relationships.  Martin and Louisa later had two children born in New York.
The marriages of Rose and Martin saw the end of their acrobatic careers.  Rose devoted her life to supporting Bob and Martin continued to manage Bob and other boxers and wrestlers.  In 1895 they toured the USA with Martin Julian's Australian Vaudeville and Athletic Company.  This comprised pugilists, strongmen, wrestlers and variety acts.
Over the next few years Martin was responsible for spearheading Bob's career, particularly when he won the world heavyweight title from Jim Corbett in 1897.  Their relationship, however, was not without controversy and several times Martin quit as manager only to be reinstated later on.  The Corbett fight was filmed and is considered the first (or at least, one of the first) film footage of a boxing match.  It is not clear whether Martin was the instigator of filming the match but certainly he (correctly) identified this as a potential business boom and in later years he would arrange to film then tour these 'veriscope pictures' of boxing matches.
In 1898 Martin branched out into theatre management for athletic clubs.  By the turn of the century he concentrated on managing wrestlers and sponsored international stars for matches in the USA but controversy still dogged him as there were many occasions he split from his charges amid negative press reports.  Several times he had to front up to the American Sporting Club or a State Athletic Commission to explain his actions.
In 1917 Martin became a theatrical booking agent for vaudeville shows although he was not as successful as his previous endeavours.  Two years later he fell victim to the post-war influenza epidemic and died at his Brooklyn home.  Louisa lived for at least another thirty years.  Their daughters married men not associated with the entertainment industry.
There is no doubt Martin Julian was ruthless in some of his dealings.  He was criticised for bringing shame to boxing but other commentators saw his actions as merely perseverance on behalf of his charges.  He certainly made his boxers rich men and was said to have made himself a fortune, only to lose it in his later theatrical ventures.  Clearly he saw the benefits in 'moving pictures' and he has been called a pioneer in that field of marketing.
(Drawing of Martin Julian from article in Sacramento Daily Union 14 March 1897.)
Contact Caroline Cavanagh at samwellcircus@tpg.com.au to purchase a copy of Once a Famous Circus which provides much more detail on the Saunders and Samwell travelling circus families.
Text © Caroline Cavanagh 2017