Equestrienne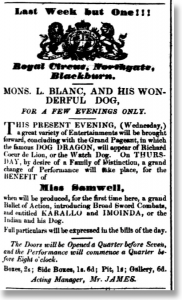 Mary Ann was born in England to William and Mary Ann Samwell.  As a fifth generation performer, it was obvious she would be 'in the business' from a young age.  She was tight rope dancing in her father's circus at least from the age of six.  Samwell's Circus travelled mainly around eastern England and London in the 1820s but expanded their route under management of mother Mary Ann after the death of William in 1834.
By her teens, Mary Ann was being billed alongside her sister Nancy for a variety of feats on the slack rope and tight rope, as well as the usual equestrian tricks.
In 1838 Mary Ann married Henry Cornwall, an equestrian and musician with Wombwell's Menagerie which, like Samwell's, was a successful touring company.  Mary Ann was subsequently billed as Madame Cornwall or Mrs Cornwall in her acts.
In 1840 mother Mary Ann died and Henry took over the circus.  For four years Cornwall's Circus toured Devon, Cornwall, Wales and London with Mary Ann starring in equestrian dramas and pantomimes.
In late 1844 Mary Ann and Henry moved to Jersey permanently and Henry set up a riding school.  He hosted circuses at the venue and sometimes performed with visiting equestrians.
In 1862 Mary Ann died in St Helier.  A few years later Henry remarried and opened a new theatre.  However, his health declined and he sold the theatre a few months before he died in 1869.
Mary Ann and Henry Cornwall did not have any children.
(Advertisement from The Blackburn Standard 23 May 1838. Image © The British Library Board. All rights reserved. Image reproduced with kind permission of The British Newspaper Archive www.britishnewspaperarchive.co.uk)
Contact Caroline Cavanagh at samwellcircus@tpg.com.au to purchase a copy of Once a Famous Circus which provides much more detail on the Saunders and Samwell travelling circus families.
Text © Caroline Cavanagh 2017.