Equestrienne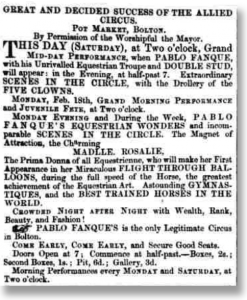 Mary Ann Whiteley was born about 1840 in Yorkshire to John Whiteley, a showman.  As a child she was apprenticed as an equestrienne with the circus manager John Clarke.  By the mid-1850s she was using the name Mademoiselle (Mdlle) Rosanna for her shows with Newsome's Circus but soon adopted the moniker Mdlle Rosalie, although reviewers sometimes called her Mdlle Rosalie Marian.
She married Thomas Samwells in 1856 and they travelled the circus circuit taking engagements with various circuses throughout England, Scotland and Ireland.  After her marriage Mary Ann was sometimes billed as Madame Rosalie and performed in a double act with her husband.
Thomas and Mary Ann also toured Europe with circuses during the 1860s.  They had five children born in England, and another born in Poland, but only one (Thomas) survived to adulthood.  In 1871 the family moved to the USA where 'Professor Samwells' did a roaring trade with his travelling animal shows.  In 1888, in San Francisco, Mary Ann and another wife of a performer were involved in an accident when the horse of their buggy suddenly reared up, seriously injuring both women as they fell to the ground.  It was reported that Mary Ann suffered serious head lacerations.  No other information can be found as to what happened to her and considering Thomas remarried within two years it is probable that Mary Ann died of her injuries.
As to Mary Ann's heritage, it appears there were two John Whiteleys who were circus showmen and it is not clear which was her father.  She certainly had a brother John who was a bare-back rider, and was undoubtedly related to Henry Whiteley who frequently performed with Thomas in England as Young Whiteley.
(Advertisement from The Bolton Chronicle 16 February 1856.  Image © The British Library Board. All rights reserved. Image reproduced with kind permission of The British Newspaper Archive www.britishnewspaperarchive.co.uk)
Contact Caroline Cavanagh at samwellcircus@tpg.com.au to purchase a copy of Once a Famous Circus which provides much more detail on the Saunders and Samwell travelling circus families.
Text © Caroline Cavanagh 2017.