Equestrienne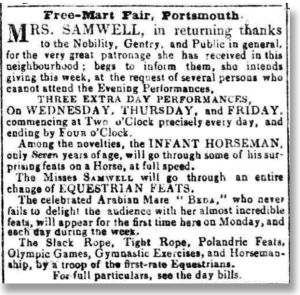 Nancy Harriot Samwell was born in Norfolk to William and Mary Ann. Compared with her siblings, not much is known about her professional life.  In childhood she performed with her parents' circus as an equestrienne and on the tight rope and slack wire, travelling mainly in south and eastern counties.  Upon the death of her father in 1834 her mother took over management of the circus and she expanded their travelling route to include northern counties.
In her teenage years Nancy performed alongside older sister Mary Ann in a variety of slack rope, tight rope and equestrian acts.  In 1835 Samwell's Circus performed before King William IV and Queen Adelaide.  In the following year the circus performed for Princess (later Queen) Victoria and her mother the Duchess of Kent.
The death of mother Mary Ann in 1840 lead to Henry Cornwall taking over management of the circus.  Later that year Henry Walker, a slack rope artiste, vaulter, and equestrian, joined the circus then married Nancy the following year.  After Henry's engagement with Cornwall's ended he and Nancy travelled with other circuses.  Nancy and Henry had at least four children, two later become performers – John an equestrian and juggler, and William who took the stage name of Reklaw as a slack wire artiste.
In 1855 Henry was among an exclusive selection of British performers sent to Australia for performances in Melbourne and Sydney.  During the late 1850s and early 1860s Henry completed several engagements on the Continent in between managing his own Allied Troupe.  Nancy's brother William Samwell was in the Allied Troupe but it was not profitable for Henry and he returned to the Continent.
Whilst in Hamburg, in 1865, Henry died of typhus.  Nancy appealed to the circus community seeking apprenticeships for two of her sons and Pablo Fanque answered the call.
In 1897 Nancy fell ill and she died in early 1898 in London.  She may not have achieved the same fame and fortune as her brothers and sister but she nevertheless played a part in the Samwell tradition.
(Advertisement from The Hampshire Advertiser 18 July 1835. Image © The British Library Board. All rights reserved. Image reproduced with kind permission of The British Newspaper Archive www.britishnewspaperarchive.co.uk)
Contact Caroline Cavanagh at samwellcircus@tpg.com.au to purchase a copy of Once a Famous Circus which provides much more detail on the Saunders and Samwell travelling circus families.
Text © Caroline Cavanagh 2017.