Equestrienne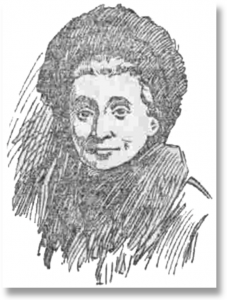 Rebecca Charlotte Partridge was born in 1819 to Isaac and Elizabeth in Leigh, Essex.  The Partridges had lived in Leigh for many generations.  Charlotte's sister Ann married circus proprietor Jean Pierre Ginnett in 1825 in Lambeth, and their children would establish circuses that attracted world attention.
Shortly after her sister's marriage, Charlotte joined Ginnett's Circus as an equestrienne when she was seven.  Many years later she met equestrian John Samwells when he was engaged with Ginnett's in the late 1840s.  They married in 1849.
John and Charlotte had eight children but only two survived to adulthood:  Amy who became a noted slack wire artiste; and Roland who became a ringmaster and scenic artist.
Charlotte preferred to be a 'graceful equestrienne' and leave the daring tricks to the men.  She eventually retired from the ring in 1861.
In 1867 John suffered an accident and had to abandon his beloved career.  Charlotte took over a boarding house in Lambeth offering lodging to circus and theatrical travellers and it gained a reputation as a rendezvous for circus folk.
After John died in 1883 Amy moved in with Charlotte for a short while.  Following Amy's engagements, they moved throughout England then Edinburgh where Charlotte died on the first day of the new year of 1907.
(Drawing of Charlotte Samwells from Evening Post (Dundee) 31 January 1903. Image © The British Library Board. All rights reserved. Image reproduced with kind permission of The British Newspaper Archive www.britishnewspaperarchive.co.uk.)
Contact Caroline Cavanagh at samwellcircus@tpg.com.au to purchase a copy of Once a Famous Circus which provides much more detail on the Saunders and Samwell travelling circus families.
Text © Caroline Cavanagh 2017.