Equestrian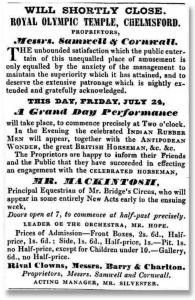 Named after his grandfather, Stephen was born in Mildenhall to William and Mary Ann Samwell.  He would no doubt have been an infant equestrian in his father's circus, travelling the fair circuit in England.
With the death of William in 1834, Mary Ann took over proprietorship of Samwell's Circus and Stephen, aged only 17, became the Riding Manager.  Tragedy struck again when his mother died in 1840 but the show must go on and Stephen collaborated with his brother-in-law Henry Cornwall as co-proprietors. Soon Henry changed the circus' name to bare his surname.  Cornwall's Circus toured southern counties, Wales, and the Channel Islands starring Stephen and his sister Mary Ann (Henry's wife).  At times his brother John and Henry Walker (who would later marry Stephen's other sister Nancy) appeared in the shows.
In 1843, whilst the circus was visiting Bristol, Stephen married Sincer Roseler Lee who was undoubtedly an equestrienne from the Lee circus family.  Roseler (as she was known) had a relative named Stephen whose stage name was Lavater Lee, the famous gymnast and equestrian.  Lavater appeared in Cornwall's Circus in the 1840s.
Stephen and Roseler had eight children but only three survived infancy, and only one of them had a successful career in the circus business (Leon Samwells).  Their last child, Henry, did have a short term as a comic vocalist.
In 1844 Stephen left Cornwall's Circus and in coming years was engaged with various circuses, touring through England.  His speciality was equestrian characters such as the Hero of Waterloo, Mazeppa, The Herculean Horseman, Dick Turpin, and Napoleon Bonaparte.  Sometimes he performed with his brothers John and William.  The last records of Stephen as a performer were in 1852.
When Stephen died in 1859 he was only 42.  He followed his father and grandfather in that they also died aged in their 40s.
Stephen's widow Roseler married Cedric Wright, an upholsterer, in 1871.  With son Leon forging his acrobatic career, Roseler's other two children took the surname of their step-father and his trade.
(Advertisement from The Essex Standard 24 July 1840. Image © The British Library Board. All rights reserved. Image reproduced with kind permission of The British Newspaper Archive www.britishnewspaperarchive.co.uk)
Contact Caroline Cavanagh at samwellcircus@tpg.com.au to purchase a copy of Once a Famous Circus which provides much more detail on the Saunders and Samwell travelling circus families.
Text © Caroline Cavanagh 2017